Has been a process! Good gracious doing anything with TWO toddlers in tow just take 1000000Xs longer. We are still settling in and taking pictures :) I am going to do some BEFORE & AFTERS soon :)
Ky has been painting his booty off! We have some definite updating to do... But I LOVE projects! Here was project numero uno... OPERATION PAINT THE DARK WOOD PANELING. I will do a full before/after but here's a quick peak at the after :
It looks amazing :) YAY!
I haven't linked up with
Katie's Saturday Morning Scene
in awhile... So here we go: Kyle is painting the dining room. I am watching and drinking coffee :) I have a feeling this will be our Saturday Morning Scene for quite some time :)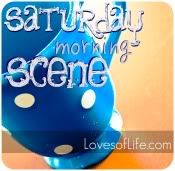 ALSO, I got to see these two yesterday! They are just so perfect! I love them so much.... Maybe not as much as their parents, but a lot :)
Super congrats to Momma & Daddy :) Check out
Meg's blog
for updates on the twinkies!